January 03, 2023
Unique Ways to Wear Jewelry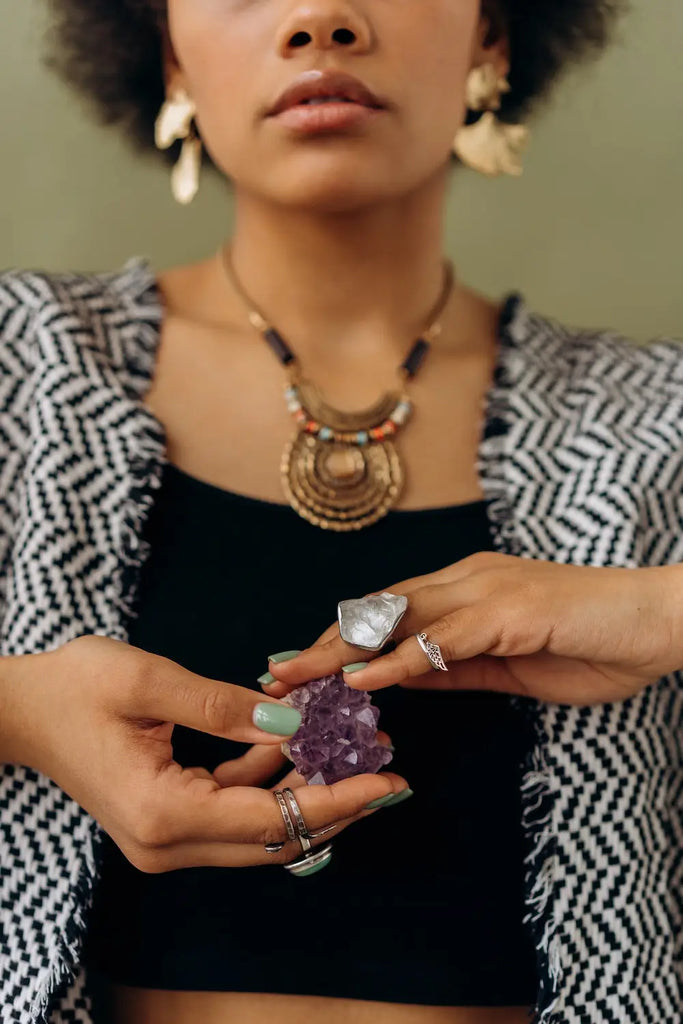 Jewelry can add a special sparkle and flair to any look. Whether it's a simple everyday accessory or a statement piece for a special occasion, jewelry has the power to enhance your clothing and overall style. With so many varieties and styles of jewelry, it can be difficult to know how to wear it. Here are some unique ways to wear jewelry that will help you stand out from the crowd.
Layer your jewelry
Layering different jewelry pieces is an easy way to create an effortless yet stylish look. From necklaces to bangles and rings, creating a layered look with your jewelry is a great way to add dimension to any outfit. For a subtle look, layer fine jewelry pieces like small pendants or delicate rings. For a bolder look, stack multiple chunky rings or mix different lengths and sizes of necklaces.
Pearl necklace with palm tree charm
Mix metals
Wearing jewelry pieces made from different metals is a great way to add a modern touch to your look. Mixing silver and gold is an easy way to create an eye-catching effect. You can also play with different textures such as a rope chain necklace paired with a shiny bangle.
Try a statement piece
A bold piece of jewelry, such as a chunky necklace or an oversized ring, can be a great way to add a touch of drama to any outfit. Try wearing a statement piece on its own for a dramatic look, or combine it with more delicate pieces for a balanced look.
Green Jade and Baroque pearl necklace
Experiment with earrings
Earrings are a great way to express your individual style. From classic hoop earrings to bold and bright statement earrings, the options are endless. Try combining different earrings to create a unique look. For instance, try wearing a delicate stud and a statement drop earring on one side.
Try different accessories.
You can also play with different accessories such as scarves or hats to add a unique touch to your look. Accessories can help to tie together a look while also making it more interesting. For a summery look, try pairing a simple dress with a colorful scarf and a pair of hoop earrings.
 Experiment with Color
Colorful jewelry can be a great way to add a vibrant touch to your look. From gemstones and crystals to colorful beads, there are countless ways to incorporate pops of color into your jewelry wardrobe. Try combination of colorful pieces to create a statement look. For a classic look, choose jewelry that has a similar color palette, such as lavender and purple shades. For a bolder look, try mixing different colors and textures, such as a turquoise necklace with a beaded bracelet.
Chunky lapis lazuli beaded necklace
Showcase Textures
Combining different textures is a great way to add visual interest to any look. Textured jewelry pieces such as hammered metals or beaded chains can be a great way to add texture. You can also mix different materials such as leather, wood and beads to create a unique look. Try wearing one texture in multiple places such as on your earrings, bracelet and necklace. Or try mixing different textures on the same piece of jewelry, such as a leather and bead bracelet.
Mix & Match
One of the best ways to make your jewelry stand out is to mix and match different types and styles. Try combining different shapes and sizes of earrings, such as a small stud paired with a statement drop earring. Or mix different metals such as silver and gold for an eye-catching effect. You can also try combining different textures, such as a beaded necklace with a hammered metal bracelet. Experimenting with different pieces and combinations can help you create looks that are unique to you.
Try Vintage Pieces
Vintage jewelry is a great way to make any look more unique and special. From antique pieces to classic styles, vintage jewelry can bring a timeless elegance to any outfit. When it comes to vintage jewelry, look for pieces that are unique and have an interesting history. You can also customize your vintage pieces by adding charms and charms or engraving them with a personal message or phrase.
These are just some of the ways you can wear jewelry and make a statement with your look. With creativity and experimentation, you can find new ways to make the most of your jewelry collection and create a look that is truly unique.